Blog
THIS HORSE SURREY CARRIAGE IS ABSOLUTELY BEAUTIFUL, It appears to fit miniature horses, ponies or possibly a small horse.  It has singles shafts and also comes with a team hitch. This horse SURREY carriage iS in like new condition with a couple small paint chips and has wood spoked wheels with rubber surround.  It is handcrafted and finely detailed from metal, wood and a fiberglass material.  It is tan in color with blue trim, the seats are a nice blue color of overstuffed thick vinyl with heart shapes on the facing.  The top is in excellent condition and is a black vinyl lined with blue crushed felt, it has a window in the back with a roll up cover (adorable). The canopy is removable. This carriage also has a brake, steps,  whip holder and deluxe hard vinyl fenders. This carriage is one of the prettiest I have ever seen.  Its makes a great wagon for in the show ring or a beautiful lawn ornament. It is unique, stylish, elegant and was built by Graber Manufacturing.  If you have any questions please feel free to email us at sales@pofarms.com  We are asking $3800 FIRM for this fine HAND CRAFTED VINTAGE HORSE SURREY CARRIAGE. You simply just do not find them like this.
KINGS JERZEE BLUE DEVILLE
(Sno-time King of Spades X Johnnys Corela Devell)
"JERZEE" is a stunnningly beautiful and  flashy PTHA Registered black and white sport Pinto filly, with one blue eye.  Her markings are unique and she is extremely eye catching.  This little filly will surely be a winner in any show ring she enters.  "JERZEE" is out of "King of Spades", our black Morgan stallion.  She has superior breeding behind her and will definitely throw some color if you decide to create a broodmare (all though this girl is way to flashy to just sit around the pasture ). JERZEE is offered for sale and the first person to snap up on this fabulous horse will not regret it, she is all that !  These pictures are from when she was a baby $1000.00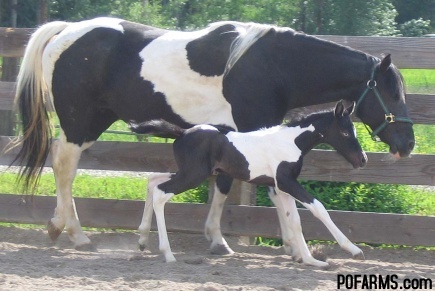 Current Photo of Jersey (below)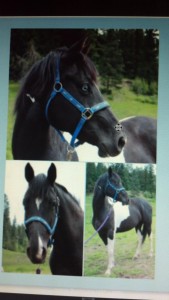 (Flying W Farms Thunder II X Flying W Farms Golden Moonsplash) AMHR Registered as a Golden Palomino, Dusty is beautiful with a deep reddish body with dark black point, his  Silver mane and tail are extremely long and have a natural wave to it, he is a REAL eye cather.   Dusty has a very calm and collected attitude and would make a great little driving Stallion.  He is very gentle and well mannered around others. Dusty carrys the well known and hard to find Flying Farm Bloodlines that speak for themselves.  Dusty has huge eyes and a dished head.  Dusty is extremely gentle.   This stallion will be a show stopper ! $800/ OBO
(Johnny War Chic X Freeways Challenge)
Homozygous tested Tobiano Paint Mare
Mia is a registered APHA mare, tested and papered HOMOZYGOUS for the TOBIANO gene.  Mia is a great little mare with more of a quarter horse build, pretty markings and a gorgeous head on her, she would be a great gaming prospect or for learning together in 4 -H.  Mia is not broke to ride but is halter broke, trailers, ties, leads, farrier etc.  She is a proven brood mare.  A little timid around the herd this mare is looking for someone she can call her own.  Eager to please and very smart.  This mare is a perfect grow with you horse Sells Open for  $750.00, can breed her to one of our stallions for additional. 
Meet Gilbert, he was born July 9th 2006 and is a 100% ZEBRA Stallion.  Gilbert's loves his grain but his absolute favorites are Black Licorice and Starburst, he spends his day eating and playing with his miniature friends that he lives with. Gilbert likes to be the boss and know what is going on.  Gilbert is very sweet and energetic.  Gilbert is a Grants Zebra with exceptional breeding that shows in his stripes !  He has lived on Pend Oreille Farms since he was 4th months old,    If you have any questions about Gilbert please feel free to email us at sales@pofarms.com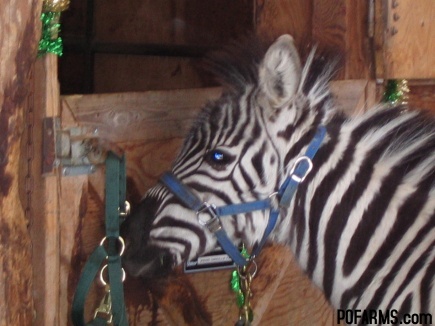 GILBERT AS A FOAL AT 4 MONTHS (above)
GILBERT THE ZEBRA MEETS FLAT STANLEY AT YEARLING (below)
GILBERT AS HE MATURES AT 2 YEARS OLD (below)